EBox 04: Leopardwood with Rhodesian Teak - 10"W x 4½"D x 3"H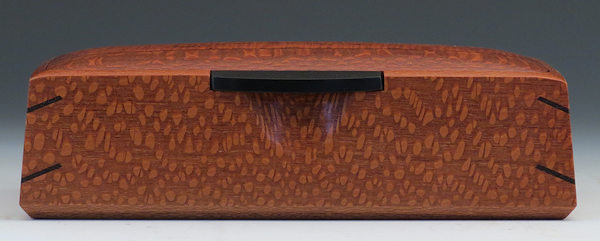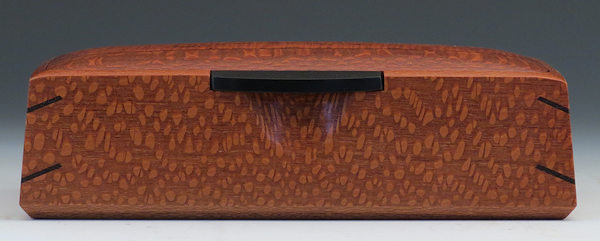 EBox 04: Leopardwood with Rhodesian Teak - 10"W x 4½"D x 3"H
Our "Everything Boxes" are just that - a wide variety of boxes that have so many uses you can't call them just "jewelry boxes" or "keepsake boxes", etc.
This Ebox is very rich Leopardwood with a strip of Rhodesian Teak. Ebony handle. Lined with UltraSuede.
Measures 10"W x 4½"D x 3"H - Click on image to view larger versions.
Interior dimensions, scale and information about woods. (Opens new tab to refer to as you browse our shop.)

After submitting your purchase details we will contact you ASAP to confirm shipping times, etc.

Free FedEx Ground/Home Delivery shipping in continental US. Let us know if you need expedited shipping. Once in the system, you'll receive an email from FedEx with tracking numbers, etc.

Idaho residents will automatically have the 6% state sales tax added.

Please submit your phone number - FedEx requires it for shipping in case they need to contact you.

If you prefer, email us and let us know which piece you are interested in and we will mark it sold and contact you. Sometimes we are at an exhibition but we frequently check our email.) You may then pay with check, credit card (via phone or email), money order, Paypal - whatever is convenient.

Call 208-345-6384. We always enjoy talking to our customers!

Finally, we guarantee satisfaction. If our work is given as a gift and you know the recipient is not entirely happy we will swap it for another piece, make another to their liking or even refund the purchase price. Of course, this guarantee applies to all purchases, not just gifts